Aktor berdarah kacukan Iban-Inggeris, Henry Golding menyatakan keterujaannya menonton perlawanan akhir Kejohanan Tenis Wimbledon 2019 yang menyaksikan Novak Djokovic menumpaskan Roger Federer untuk muncul juara Wimbledon buat kali kelima di London, awal pagi Isnin.
Pelakon filem Crazy Rich Asians itu menerusi akaun Instagram miliknya turut memuat naik dua foto dirinya mengenakan sut butang berganda rona kuning cair rekaan Ralph Lauren.
"Terima kasih @ralphlauren kerana memilih saya. Saya cukup teruja dalam persalinan ini," katanya.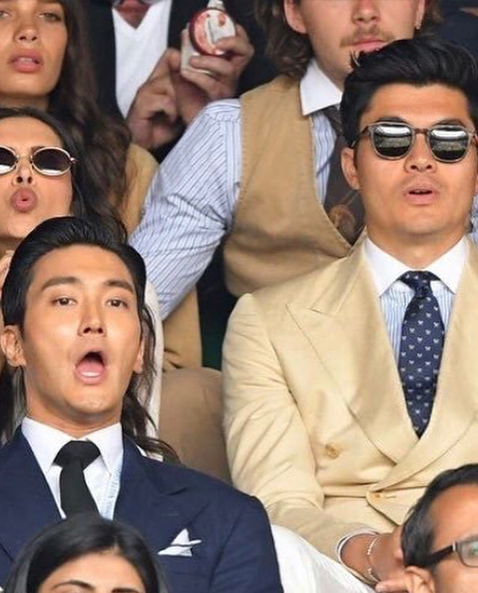 Menerusi entri itu juga, netizen turut mengekspresikan keterujaan mereka sebaik melihat gambar Henry duduk berhampiran dengan anggota band Super Junior, Siwon Choi, aktres Bollywood, Deepika Padukone dan anak kepada bekas pemain bola Manchester United, David Beckham iaitu Brooklyn.
Perlawanan antara Djokovic dan Federer berlangsung sengit pada set akhir, hinggalah Djokovic berjaya memecahkan 'tie break' dan muncul sebagai pemenang.
Djokovic mara ke final susulan kemenangannya ke atas Roberto Bautista Agut dari Sepanyol, 6−2, 4−6, 6−3, 6−2 pada Jumaat.
Perlawanan di antara Djokovic dengan Federer ini juga direkod sebagai perlawanan final Wimbledon paling lama dalam sejarah pada 4 jam 57 minit.
Dalam pada itu, kejuaraan Grand Slam itu turut menjadi medan pertemuan golongan selebriti Hollywood dan kerabat diraja.
Duke of Cambridge, Putera William dan isterinya, Duchess of Cambridge, Kate Middleton antara kerabat diraja yang hadir menyaksikan sukan berprestij itu.
Selain itu, antara selebriti Hollywood yang hadir termasuk pelakon, Kate Beckinsale, Tom Hinddleston, Catherine Zeta-Jones; model, Kendall Jenner; penyanyi Leona Lewis dan pereka fesyen terkemuka, Vera Wang.
Sumber: AWANI