Anak perempuan usahawan Datuk Seri Vida iaitu Cik B baru-baru ini telah dikritik netizen kerana berpenampilan selekeh dan berbaju sendat.
Cik B dikritik netizen dari sebuah video yang dimuat naik oleh pelakon Nora Danish ke Instagram.
Video tersebut menunjukan Datuk Vida dan anaknya serta beberapa artis termasuk Nora Danish sedang menari lagu raya yang dinyanyikan Vida iaitu Lavida Raya.
Ia merupakan rakaman Hari Raya dari sebuah program TV.
Rata-rata mengkritik penampilan Cik B yang selekeh dan berpakaian sendat.
Vida tidak mendiamkan diri, dia yang menyedari mengenai komen tersebut membalas menerusi satu entrinya di IG.
Berikut merupakan luahan Vida;
"Semalam Rakaman POP TV RAYA..
"Sebab tu Cik B tak suka kluar TV...
"Tu pun puas pujuk..
"Terus kena..
"Cik B pakai Baju 2 lapis," tulisnya.
Enrti tersebut juga mendapat perhatian Nora Danish yang meninggalkan komen seperti berikut:
"Haih, Cik B
itu still a kid...leave her alone please. Don't worry Cik B sayang, look how banyak your supporters. We love you.
"Think positive and ignore the bawang family. Enjoy your childhood," tulisnya.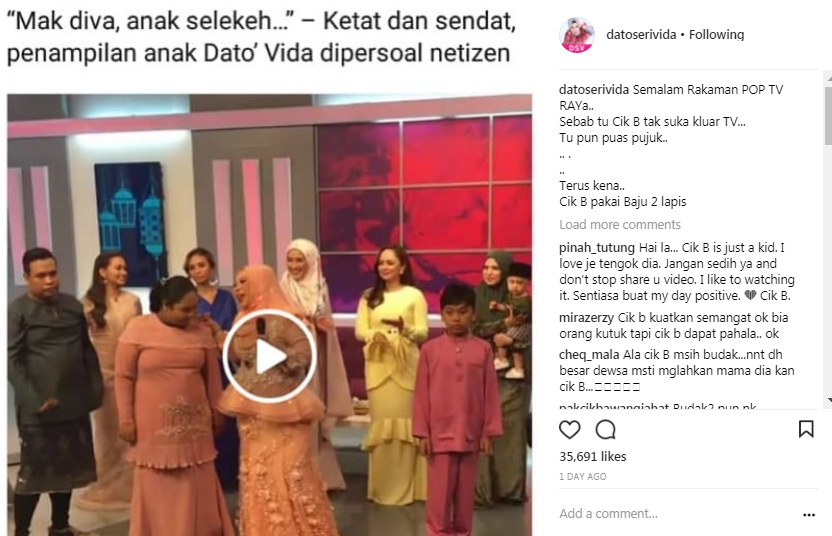 Sumber: AWANI